Posted by Anjuelle Floyd | Filed under ... anjuellefloyd ..., Articles & Essays, Articles and Essays, Relationships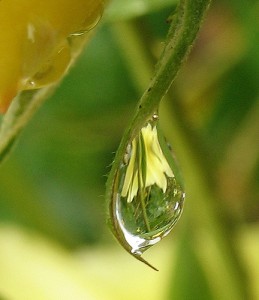 Yellow Rose with Drop Closer Crop, a photo by birdyboo on Flickr.
Moments after a child exits the women, the obstetrician, or midwife cuts the umbilical cord linking mother to child.
Male children enter a journey of maturation into adulthood that ideally includes a father, or male guiding and supporting them.
As with all children she ushers into life, the mother of a female infant lays the baby upon her chest, nestles and feeds her, but unlike with sons, the mother serves as her daughter's guide from birth into womanhood.
Who better than a man to teach and nurture a boy into manhood?
Likewise, none but women can best assist a girl in navigating the wilds of growing into a wise, compassionate, and prudent woman.
And yet, theory and reality, as with many life dimensions, often diverge.
That for which we hope often gives way to the probabilities based upon the facts of our present reality.
Many women and mothers have raised sons into excellent and wonderful men.
Likewise many men have nurtured daughters into women any parent or person would be proud to call daughter.
And yet one fact remains.
The umbilical cord attaching mother to daughter, unlike that which connects mother to male fetus, sustains the life of a child, who if choosing, can do as her mother–bring another life into the world.
This one ability distinguishes sons from daughters. For this reason, the relationship a woman and mother holds with her daughters, stands separate and distinct from the connection with any sons she might bear.
As with a man and the relationship with his sons, the bonds tying a mother to her daughter(s), their interactions are neither better nor more important to the life of the mother, neither are a mother's interactions with her daughter fraught with more pain nor do they contain any more ounces of joy than those she holds with her sons.
Rather, and as with fathers to their sons, a mother's relationship with her daughter(s) bears the mark of an umbilical cord that sustained the life of and connected the mother to a fetus that would not only grow into a person of the same gender, and who in being the same gender, could, like the mother bear children.
This reciprocal quality, the ability to conceive a life and host that life within your womb as did your mother, casts a quality upon mother-daughter interactions that not only distinguishes them from a mother's interactions with her sons, but also stands unique from a man and father's interactions with his sons and daughters.
None but a woman can host a child within her body.
All daughters, as did sons, enter this world through the portal of their mother's womb.
But unlike their brothers or other males, daughters–women–can perform the same task of conception and giving birth as did the one, a woman from whom they entered life.
Men, like their fathers, cannot give birth.
And yet, men, like women enter this world through the doorway of their mother's uterus.
Thus the cutting of the umbilical cord linking son to mother symbolizes a necessary severing, such that the son can connect with the person who will assist him into manhood.
In the wake of cutting an umbilical cord attaching mother to daughter, a the new and invisible bond that emerges rests not upon searching and working to build that which was cut and then died–the umbilical cord.
It instead makes way for the emergence of an emotional bond whose foundation, like the healing of an infant's naval which turns inward, rests upon that which is invisible and grows and lives internally, as did the fetus upon conception within the woman and mother's womb.
This mirroring quality that lives between and with the relationship between mothers and daughters, both possessing the a capability to bear and deliver children into life, underpins their interactions and a daughter and young woman's discovery of purpose and meaning in her living.

Tags: adult, adulthood, baby, birdyboo, bond, boy, conception, connection, daughters, fetus, girl, infant, interaction, life, link, living, men, midwife, mirroring, mother, naval, obstetrician, relationship, sons, umbilical cord, uterus, womb, women, Yellow Rose with Drop Closer Crop, Yellow Rose with Drop Closer Crop by birdyboo
Leave a Reply