Posted by Anjuelle Floyd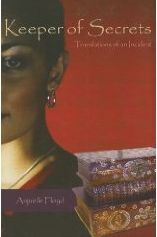 Keeper of Secrets: Translations of an Incident
Anjuelle Floyd
Three Muses Press, June 15, 2007
$14.95 US; ISBN: 0976926180
About the Book
Memories of the Hindu icon of dancing Siva compel wife and mother, Raven Clarke, to intervene in the attack of one restaurant patron on another.
Watching from a distant table, Lahni Irete# !nds herself driven back to the violence of her childhood and adolescence. The next day she shares her account of the happening with psychiatrist, Reynard Williams. Williams embraces the tale as a man seeking help to confront the core of pain that has distanced him from his wife and left him sexually and spiritually impotent.
Along the way Williams consults with Sahel Denning, an injured psychologist no longer practicing psychotherapy. Engineer, Michael Banks, !nds the restaurant incident a map guiding him on his path to reclaiming the events of the morning before he fell from the Richmond Bridge. Rumor and innuendo cloud Ariane Gadsen's acquaintance with the story, propelling her down the path of reconciliation with what she is hiding.
The restaurant scene stirred regret and despair within Trey Williamson, a widower, on his !rst date since the death of his wife three years earlier. The intimate backdrop of the restaurant o%ers containment wherein newly discharged Captain Darryl Sharpton reveals his most dark and intimate truth.
Read an Excerpt
Keeper of Secrets: Translations of an Incident is available wherever books are sold and online at the following:
The First World Books & Specialty Shop
Praise for Keeper of Secrets: Translations of an Incident . . .
"Karmic truth, the effect of our decisions with our secrets and our deepest loves, comes back and squeezes our hearts!"
— Clive Matson, author of Let the Crazy Child Write!
"…a formidable debut worthy of classic status incorporating elements of Edith Wharton, Andrea Lee, and Gwynne Forster. The convoluted lives of upper-class Blacks break new ground in American literature. With skillful, imaginative writing, this first literary offering of Three Muses Press is sure to be a crossover hit!
— Dera R. Williams, APOOO BookClub
"In a world where cookie-cutter novels have become the norm rather than the exception, debut author Anjuelle Floyd has broken the mold. . . Told in a refreshingly intellectual tone, Keeper of Secrets, rather then excluding, invites a wide range of readers to imbibe words that stimulate, educate, and entertain!"
— Dr. Linda Beed, On Assignment Reviews, author of Business Unusual

5 Responses to "Keeper of Secrets"